from Narita International Airport (Tokyo)

from Narita Airport to Tokyo St.
You go to Tokyo St. from Narita Airport by Train(JR) or Bus.
by Train(JR)
Please take Narita Express (N'EX) or Airport Narita (Rapid Service) of JR Line. There is one station for each of the two terminals at Narita Airport: Airport Terminal 2 Station and Narita Airport Station (Terminal 1). It takes about one hour by Narita Express and one and a half hours by Airport Narita. However, Narita Express takes extra charge.
by Bus
After purchasing tickets at the bus ticket counter in the airport, please take the bus and get off at "Tokyo-Station Yaesu South Exit" or "Tokyo-Station Marunouchi North Exit". Please note that the bus stations are different for Terminal 1 and Terminal 2. It takes about 1.5 hours from Narita to Tokyo. The fee is 3,000 yen.
from Tokyo St. to Shin-Kobe St.
Please use JR Tokaido Shinkansen from Tokyo Station to Shin-Kobe Station. It takes about 2 hours and 50 minutes. The fee is 14,870 yen.
from Shin-Kobe St. to KSC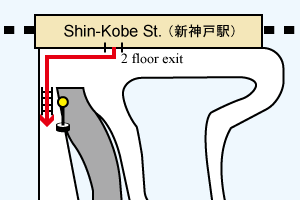 Direct bus service is operated from Shin-Kobe Station to KSC. Please take an express bus line 38 bound for "Kwansei Gakuin University Campus", "Yurinoki-dai 4-chome", or "Gakuen 7-chome" from the bus stop by Shin-Kobe Tunnel (see the right figure). Please get off at "Kwansei-Gakuin-mae". It takes about 1 hour and 10 minutes. The fee is 800 yen.