from Kansai International Airport

from Kansai Internatinal Airport to Sannomiya St.
Please take an airport bus(Kansai Airport Limousine) bound for Kobe-Sannnomiya at the bus stop 6. It takes about 1 hour. The fee is 1,800 yen.
from Sannomiya St. to KSC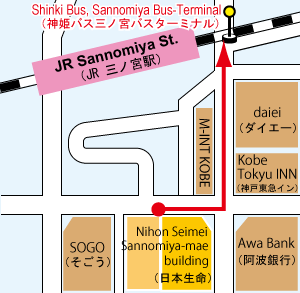 Direct bus service is operated from Sannomiya Station to KSC. The bus from Kansai International Airport arrives in front of Nihon Seimei Sannomiya-mae Building. Upon arrival, please walk towards Awa Bank and turn left at the crossing. Please take the bus at a bus stop under an overpass. (see the right figure)
Please take an express bus line 38 bound for "Kwansei Gakuin University Campus", "Yurinoki-dai 4-chome", or "Gakuen 7-chome" and get off at "Kwansei-Gakuin-mae". It takes about 1 hour and 10 minutes. The fee is 800 yen.